Melville Athletes to compete at ALAC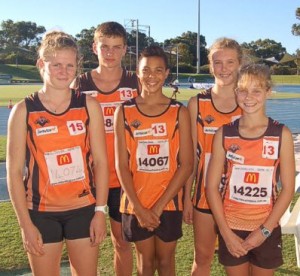 This year WA has the privilege of holding the Asics Australian Little Athletics Championships here in Perth. The last time it was here was 2007, so this year, 2015 we have home ground advantage.
ALAC consists of 11 Boys and 11 Girls from U13, selected from each state to compete against each other.  There is also a Multi Event for U15 athletes – 2 boys and 2 girls.
We congratulate the following 5 Melville athletes that have been selected into Team WA/2015 and wish them success in this years event.
Stefan Rajakovic — U13B
Sasha Zhoya      –- U13B
Jenna Bain       -– U13G
Courtney Johns   -– U13G
Imogen Taylor    –- U15G
As a state we are trying to get as many people to the stadium to cheer on the athletes to help them achieve success and win it for WA.
The competition is at our Athletics Stadium on Sunday the 26th of April.  The program of events can be found on the WALA website, first event is at 10:00 and final event relays are at 4:20.  If you can't get to the stadium live streaming is also available, the link will be made available on the morning of the ALAC, from the homepage of the Little Athletics Australia website.