Each competitor must wear the correct uniform for their club or centre from the start of the season.
Club Uniform
Club shirts are purchased from club representatives at training.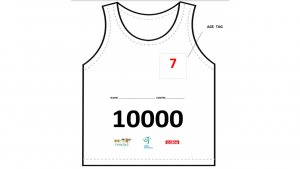 Please securely fasten all numbers and tags. They can be sewn, hand tacked or pinned.
Your registration number is placed centre front of the shirt with the athlete's name printed in the space provided. For returning athletes use the same registration number from last season.
Age tags are placed on the left-hand shoulder of the shirt.
An athlete will be initially cautioned and on additional occasions may be suspended from competition if they are out of uniform.
Centre Uniform
Melville Roar shirts can be purchased from the Centre. For Seniors, please speak to the Seniors Manager. For Little Athletes, information will be shared on how to purchase a Melville Roar shirt before Athletics West events.