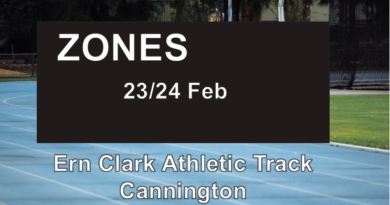 As we approach the business end of the season please ensure you are aware of what events remain:
Zones 
Sat/Sun 23 & 24 Feb – Zones Championships – state qualifier
For U7-U8 athletes Zones will be their final competition for the summer and the first 3 placegetters in each event will be awarded medals.
For U9 – U15 athletes Zones comprise the heats and quarter finals for the State Championships. The number of competitors qualifying in each event is detailed in the LAWA Rules of Competition.
U16-U17 athletes nominate directly to States as per LAWA Rules of Competition.
State Championships
Fri/Sat/Sun 8, 9 & 10 March – State Championships
Please ensure you are aware of eligibility for all of the events above.
We wish all athletes the best of luck! Most importantly go out there and have some fun.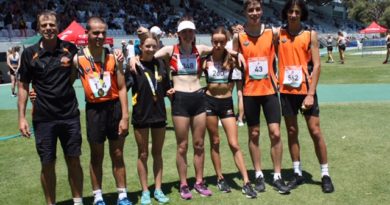 roaradmin
Comments Off

on Melville middle distance athletes strike gold
Melville's Middle Distance group performed very well across the weekend in the Athletics WA 2019 State Championships. Not only did our runners pick up a swag of medals but they also achieved a number of valuable PB's. Full results are up on the Athletics WA website. The group was superbly led by it's spiritual leaders Kayla Van Der Linden and Lachlan Bennett. They both went straight to the front of their races and said "Catch me if you can" to the rest of the field.
Kayla won gold and ran 4:26 in the U16 Girls 1500m breaking her own State record in the process
Lachlan ran also ran a PB in his 800m final at 1:56 and won gold in the U18 Boys 800m
Our seven Melville athletes who competed at the championships and indeed all the rest of the middle distance group at Len Shearer have been a pleasure to be involved with this season
Well done to all of you
Coach Ross
Athletes in the photo from the left:
Raynor Keane, Vanessa Miller, Charlotte George , Kayla Van Der Linden , Lachlan Bennett , Luke Chapman , absent from photo- Aiden Street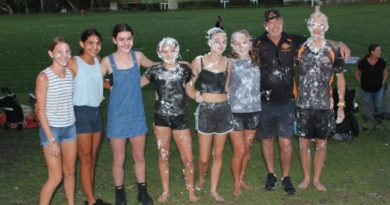 Congratulations to all our athletes on a great 2018/2019 season.  For hose athletes heading onto Zones and State Champs we wish you all the best!
Many thanks to Simon Kenworthy-Groen for the great photos.